Since 2013, TEAM is an Authorized IPC Distributor
, we sell all IPC products such us IPC standards ; technical documentations ; media training ; E learning voucher. Do not hesitate to contact us to receive a proposal. For more information about ALL IPC standards (tilte, table o content, price member/non member), visit ''IPC store'' then inform us about your detailed need  by completing the form to obtain a quote for the IPC standards you need by clicking on the "QUOTE REQUEST"
TEAM has translated into Arabic the two following IPC standards :
IPC-J-STD-001G AR : not yet published by IPC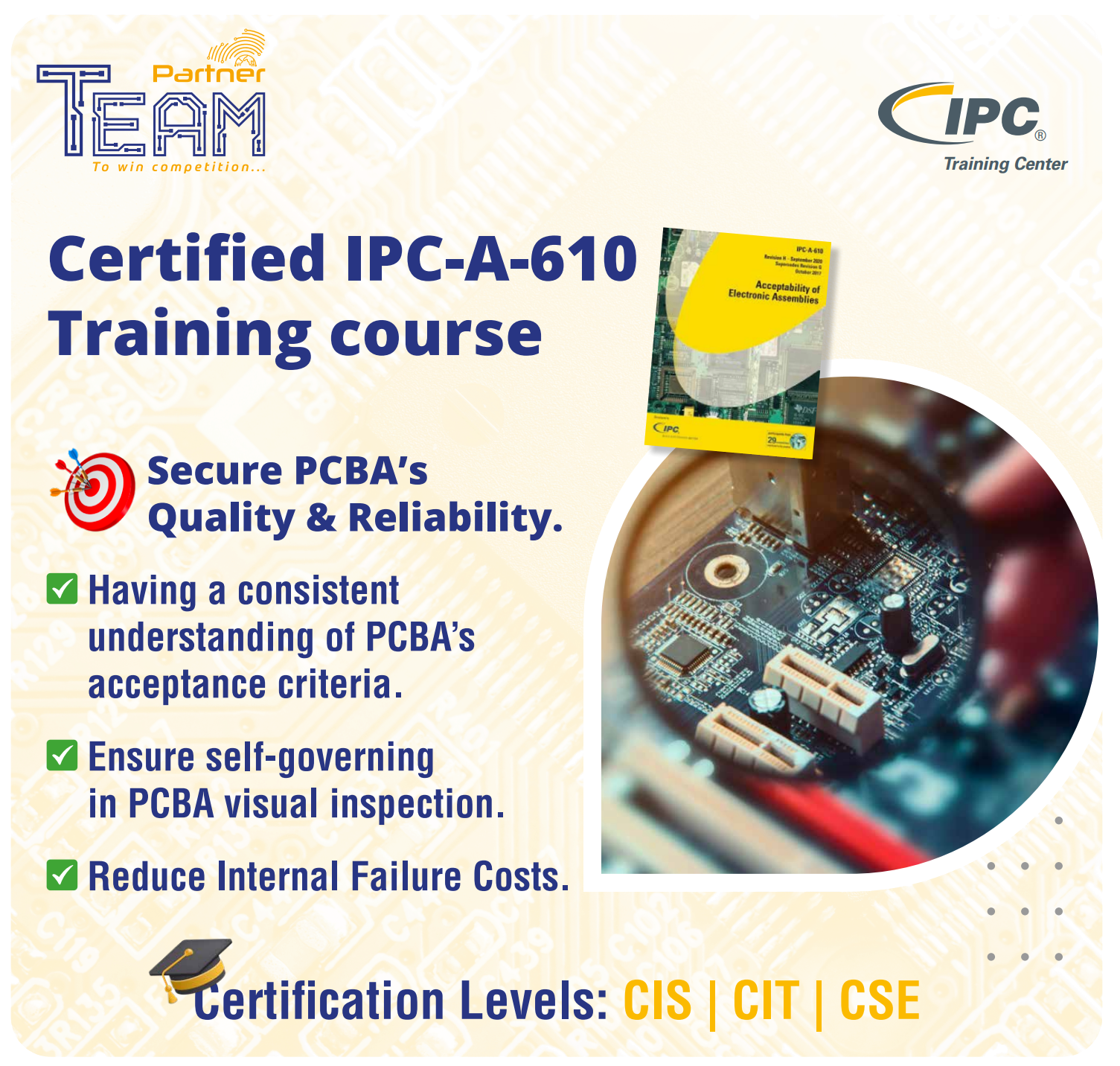 Choosing the Right IPC Certification Level for You and Your Company
What certification level do you want to achieve working in the electronics industry? IPC currently provides three levels of certification to the IPC Standards for individuals working in the electronics industry. Depending on your experience within the industry, you can become certified as a Certified Standards Expert (CSE), a Certified IPC Trainer (CIT), or as a Certified IPC Specialist (CIS).
Choosing the right level of certification for you is important. Becoming certified allows individuals to provide keen insight to your company on IPC standards and how they are applied within manufacturing. The certification provides industry recognition not only to yourself but also to your company. Speaking the same language is critical to the success of companies within the electronics industry.
TEAM Partner is an authorized IPC Training center, we offers IPC training, certification and re-certification in person, on line and by Remote Proctor for the three following IPC certification level.
CIS training and certification is appropriate for any individual that will benefit by having a consistent understanding of the criteria in a standard. Line operators, engineers, quality engineers will find this training and certification beneficial for their knowledge in the electronics industry.
CIS training is modular. The Technical Training Committee for each Program will define the course module(s) that are mandatory or optional for that Program. Upon successful completion of the mandatory modules, optional modules maybe selected as appropriate to support various technology segments.
The Certified Standards Expert (CSE) is a subject matter professional with a high level of knowledge and understanding of a specific IPC standard or group of standards. The role of the Certified Standards Expert may vary by organization, but the CSE will be able to:
Act as a subject matter expert for their organization, answering standard related questions, providing support to various levels of the organization, and, interpreting the standard for their organization.
Judge organizational conflicts in opinion of a viewed condition.
Act as the intermediary between the organization and IPC staff and/or industry experts on standards questions.
Update the organization on the latest standards and best practices from industry.
Provide feedback to standards committees on updates to the process for inclusion in the standards.
Interface with designers and process engineers to develop assembly processes.
The Certified Standards Expert (CSE) program is divided into two levels:
Certified Standards Expert (CSE)
Senior Standards Expert (SCSE)
CITs may be employees of companies that train only within their parent company. Faculty members of education and training institutions, such as technical schools or community colleges that train a variety of current and future workers. Members of a Licensed Training Center when that individual has not yet met the criteria for being an MIT. Independent consultants who work with a variety of companies. Conductors of CIS or CID training for any organization that desires such training and in accordance with the Policies and Procedures defined by IPC.
CITs are authorized to deliver and administer CIS or CID / CID+ training and certification examinations to individuals who wish to gain IPC Certification. Certification will be granted by IPC to any individual who successfully completes the required Program and/or passes the minimum skills measurement criteria set by each Program's Technical Training Committee. This will include, as a minimum, passing all required examination(s) and, as defined in the Program, may require acceptable completion of specific workmanship demonstrations. All examination(s) are required to be delivered and administered through the Online Certification Portal.
IPC Policies and Procédures
IPC's policies and procedures provide an extensive outline of the certification programs. From the definition of term, to prerequisites, to outlines of the certification exam, you can find it all in the policies and procedures. Anyone seeking to earn or renew IPC certifications should review the policies and procedures. You can find the policies and procedures for your certification level here.
TEAM is licensed by IPC for the following IPC standards :
TEAM is licensed by IPC for the following IPC standards :
IPC-A-600 :
IPC-A-600, Acceptability of Printed Boards has set the standard for PCB workmanship quality with its comprehensive acceptance criteria for target, acceptable and nonconforming conditions on bare printed boards. PCB manufacturers and assemblers alike rely on this internationally recognized document to improve their understanding of printed board quality issues as well as help enhance communication with their suppliers and customers. This makes IPC-A-600 one of the most widely used standards ever published by IPC, and a natural choice for certification
Topics Covered in the IPC-A-600 Endorsement Program
Printed board product classifications and acceptance criteria
Base material surface and subsurface conditions such as measling/crazing
Solder resist coverage over conductors and registration to lands
Conductor width and spacing and annular ring requirements
Dielectric material criteria for etchback, voids, and resin recession
Plated-through hole requirements for copper plating thickness, voids, nodules and cracks
Acceptance criteria for flexible, rigid-flex and metal core printed boards
Skills for teaching the lesson plan effectively
Printed Board Manufacturers Knowledge of acceptance criteria is essential in tracing nonconforming conditions to their origins in the manufacturing process. The IPC-A-600 Training and Certification Program establishes the important relationship between the IPC-A-600 and the IPC-6012. This program also makes a powerful statement to users of printed boards that a company is serious about continuous quality improvement. Industry-recognized, technically accurate training for anyone involved in PCB fabrication did not exist until now.
Electronics Assembly Companies No one wants to put dozens of expensive components on a defective PCB. IPC-A-600 Training and Certification gives the assembler the information to do a better job at incoming inspection. Knowing acceptable conditions means that PCBs are not needlessly scrapped; knowing nonconforming conditions saves the assembler from an expensive component mounting operation. Certified IPC Trainers working in electronics assembly can forge a more productive relationship with their PCB suppliers.
OEMs and Material/Equipment Suppliers Anyone involved in purchasing or specifying printed boards needs to understand the criteria of IPC-A-600 and IPC-6012. OEMs, like assemblers, perform incoming board inspection and have a huge investment in PCBs. Designers will learn the baseline requirements for board quality for all classes of product. Material and equipment suppliers along with OEMs will sharpen their ability to recognize nonconforming conditions.
IPC-A-610 :
With its comprehensive criteria for printed circuit board assemblies, IPC-A-610 is the most widely used inspection standard in the electronics industry — and has earned an international reputation as the source for end-product acceptance criteria for consumer and high reliability printed circuit assemblies. Now updated to lead-free, and available in many languages, IPC-A-610 has been embraced by original equipment manufacturers and electronics manufacturing services companies worldwide.
Topics Covered in the IPC-A-610 Endorsement Program
Establishing and maintaining integrity of the certification program
Purpose and application of IPC-A-610
Hardware installation
Soldering criteria, including lead free connections
Soldered requirements for connecting to terminals
Soldered connection requirements for plated-through holes
Surface mounting criteria for chip components, leadless and leaded chip carriers
Swaged hardware and heatsink requirements of mechanical assemblies
Component mounting criteria for DIPS, socket pins and card edge connectors
Jumper wire assembly requirements
Solder fillet dimensional criteria for all major SMT component groups
Soldering, such as tombstoning, dewetting, voiding and others
Criteria for component damage, laminate conditions, cleaning and coating
Steps to effectively using the lesson plan and materials, tips on inspection and a review of important Certified IPC Trainer skills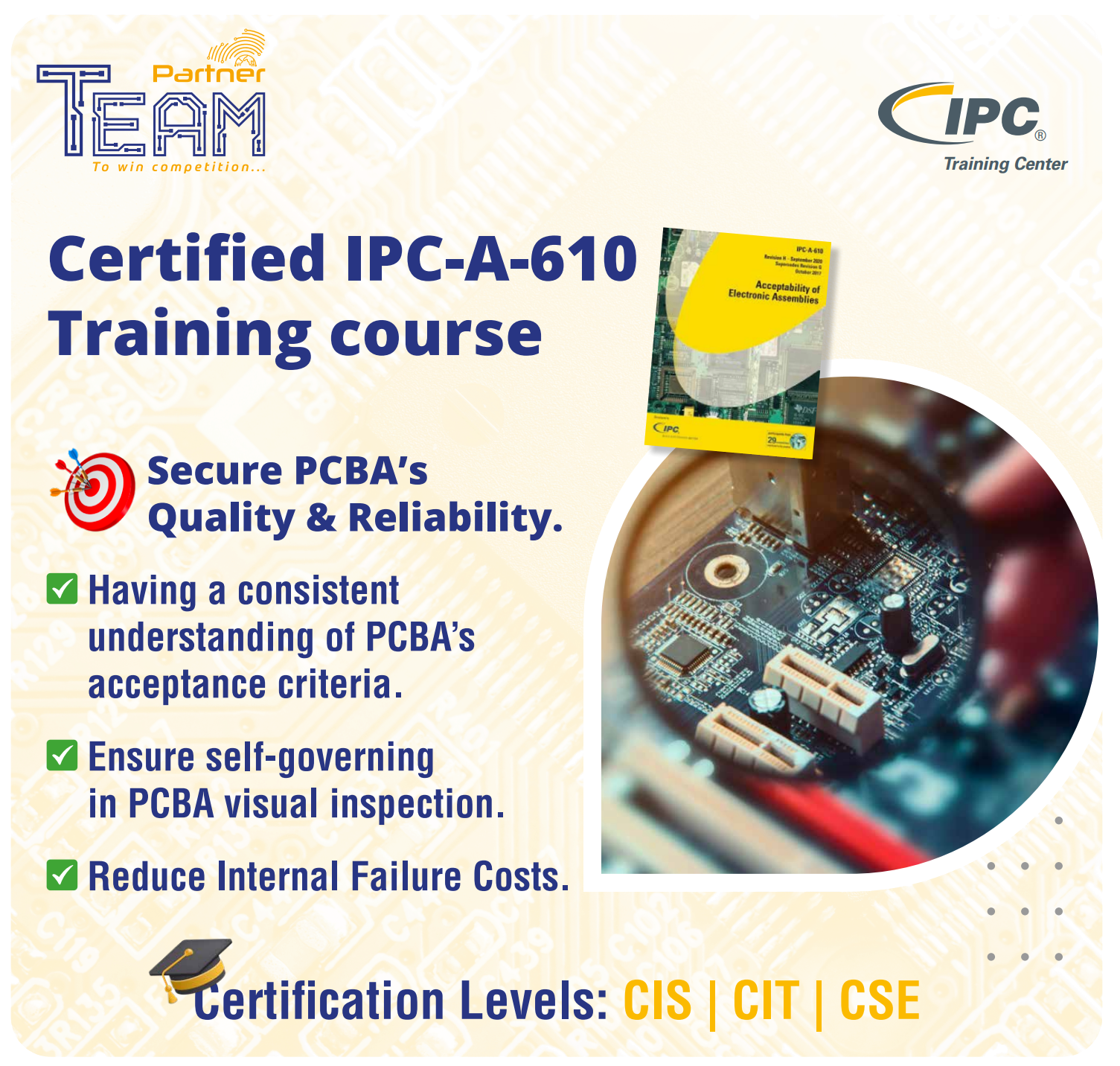 Anyone responsible for the quality and reliability of electronic assemblies should consider becoming an IPC-A-610 Certified IPC Trainer. Trainers and quality supervisors versed in electronic assembly are excellent candidates for A-610 training, as are engineering and manufacturing supervisors with assembly responsibilities.
IPC-A-620 :
IPC/WHMA-A-620, Requirements and Acceptance for Cable and Wire Harness Assemblies enjoyed immediate international acceptance since its first release in 2002 and quickly became the most important process, materials and inspection standard for the cable and wire harness industry. Developed with the support of the Wire Harness Manufacturer's Association, the document and training programs have been published in several languages and the standard has earned an international reputation as the source for end-product acceptance. Now updated to lead-free for terminal soldering criteria, IPC/WHMA-A-620 has been embraced by original equipment manufacturers and electronics manufacturing services companies worldwide.
Topics Covered in IPC/WHMA-A-620 Endorsement
General; Applicable Documents; Preparation; Measuring Cable Assemblies and Wires; Testing
Crimp Terminations; Insulation Displacement Connection
Soldered Terminations; High Voltage Applications
Connectorization; Over-Molding/Potting
Ultrasonic Welding; Splices
Marking/Labeling; Securing; Finished Assembly Installation
Coaxial and Biaxial Cable Assemblies
Harness/Cable Electrical Shielding; Cable/Wire Harness Protective Coverings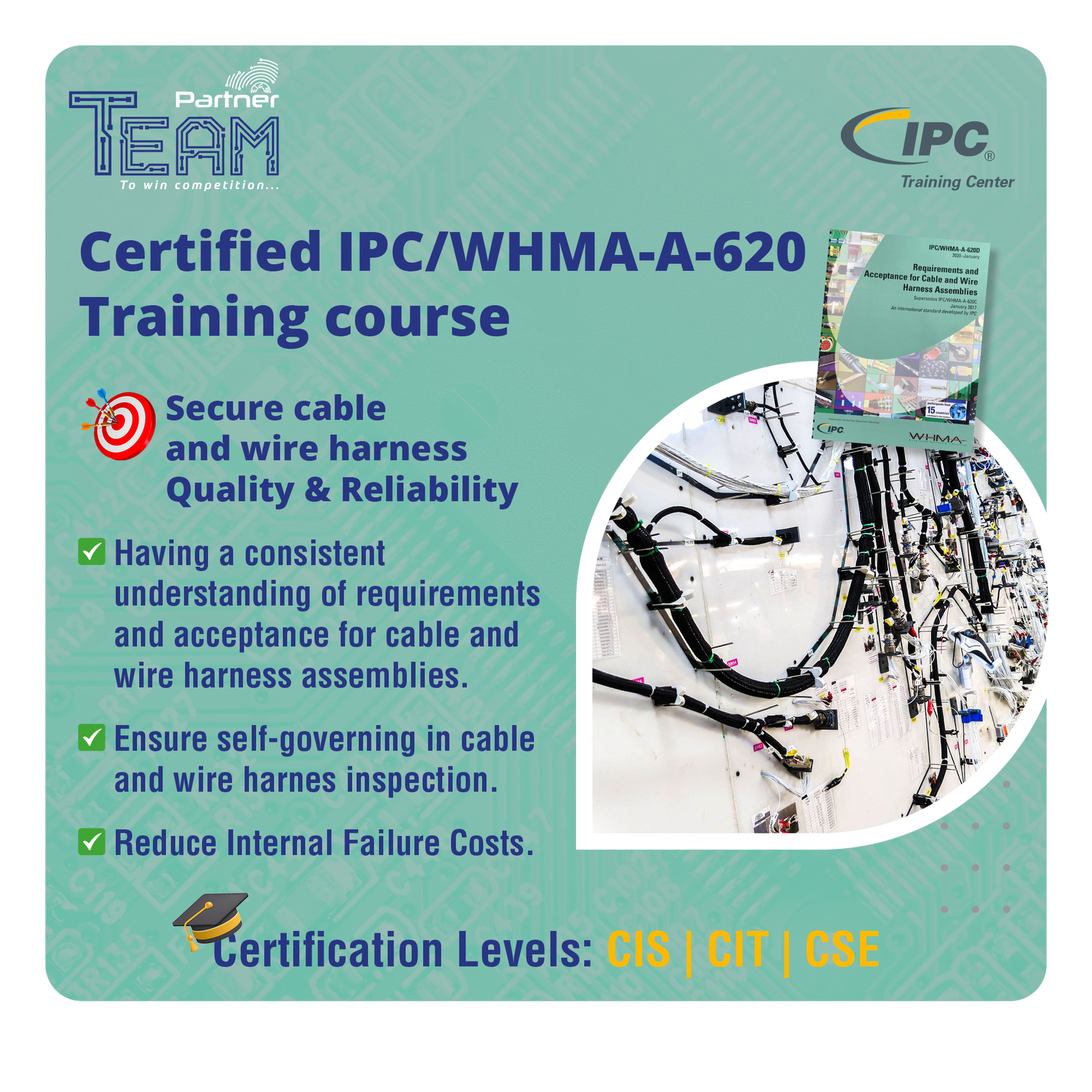 Assembly process engineers, quality assurance supervisors, training managers and others responsible for the quality and reliability of cable and wire harness assemblies are excellent candidates for the program.
An industry developed and approved program that includes training, certification, and instructional materials based on the IPC/WHMA-A-620C is available to your company. Thousands of individuals have been trained to be IPC/WHMA-A-620 Certified IPC Trainers (CIT). A comprehensive and technically accurate program, IPC/WHMA-A-620 Training and Certification provides Certified IPC Trainers with high-quality materials and detailed instructional plans that have been used for training Certified IPC Specialists (CIS) at all levels, including buyers, sales teams and management.
IPC J-STD-001 :
IPC J-STD-001, Requirements for Soldered Electrical and Electronic Assemblies, has emerged as the preeminent authority for electronics assembly manufacturing worldwide. The standard describes materials, methods and verification criteria for producing high-quality soldered leaded and lead-free interconnections. It emphasizes process control and establishes industry consensus requirements for a broad range of electronic connections.
Topics Covered in the IPC J-STD-001 Endorsement Program
Instructional skills and the roles and responsibilities of Certified IPC Trainers (CIT Certification program only)
General requirements, such as safety, tools and electrostatic discharge (ESD)
Wire and terminal assembly requirements, demonstrations and laboratory
Through-hole technology requirements, demonstrations and laboratory
Surface mount technology requirements, demonstrations and laboratory
General soldered connection acceptance requirements (including Lead Free)
Machine and reflow soldering process requirements
Test methods and related standards
Quality Assurance, Assembly process engineers, quality assurance supervisors, training managers and others responsible for the quality and reliability of soldered electronic assemblies are excellent candidates for the program.
Company-wide quality assurance initiatives can showcase this IPC-sponsored program to illustrate their commitment to continuous operations and product improvement. IPC recognition sends a strong message to customers that your company is serious about implementing J-STD-001.
IPC-7711/7721 :
Manufacturers and assemblers that want to realize dramatic cost savings by repairing and reworking electronic assemblies and printed circuit boards agree on the benefits of IPC-7711/7721, Rework, Modification and Repair of Electronic Assemblies. This widely used standard offers a wealth of industry-approved techniques on through-hole and surface-mount rework as well as land, conductor and laminate repair. It covers procedural requirements, tools, materials and methods for removing and replacing conformal coatings, surface mount and through-hole components. The standard also includes procedures for repairing and modifying boards and assemblies. In addition, it is now updated with additional support for lead-free, BGAs and flex-print repairs.
Topics Covered in the IPC-7711/7721 Endorsement Program
Product classifications, skill levels, tools and materials
Basic surface mount and through hole component removal
Land preparation and component installation
Primary heating methods: conductive, convective and others
Handling electronic assemblies
Wire splicing procedures
Through hole component removal and installation
Chip and MELF rework procedures
SOIC/SOT, J-lead and QFP rework
Printed wiring board circuit and laminate repair
Conformal coating removal
Technicians, manufacturing and quality assurance supervisors who want to demonstrate they have the skills needed to restore operation of expensive electronics assemblies are strongly encouraged to earn this endorsement.
The IPC-7711C/7721 endorsement program is not intended to be an introduction to hand soldering and rework or be a basic hand soldering and/or basic rework course. Prospective candidates should have some experience in rework and repair and good eye/hand coordination. The processes in the IPC-7711C/772 are intended to be used by operators and technicians who have at least some knowledge and experience in rework and repair of circuit boards. The training uses step-by-step process instructions to build upon the knowledge, skills, and abilities already obtained by the Certified IPC Specialist (CIS) candidate.
TEAM offers tailor-made courses in-company, in-haouse or online. This courses covering, Design, PCB, PCBA, wire harness assemblies.
For information only, you find below a wide range of training courses that TEAM can offer to your organisation. Please choose your program, notify it's TEAM code by process  and ask us for a complete technical offer.
Does your workforce need a fundamental understanding of the industry?
How do you bring new hires up to speed on industry vocabulary, business practices and technical skills?
Could your training regimen use an influx of new content?
Using IPC Edge learning platform TEAM can offers a variety vouchers to build knowledges at your pace and get education experiences to deliver consistent and effective training across your organization.
Courses are available 24/7 in self-paced and instructor-led.
Based on the experience of his trainers experience, TEAM has developed a PCB & PCBA expertise via visual inspection check-list in compliance with IPC A 600 & IPC A 610.
Don not hesitante to send us your product for an expertise quotation.